ORDER:
Multiplication worksheets with your name!
(25 series - 3000 multiplications)
Click here to donwload and try the first series for free!

50 personalized worksheets with your name!
(3000 exercices!)

divided in 25 different series (1 serie = 1 week of training)

series of individual times tables and series of mixed times tables.

created by an experienced remedial teacher

funny illustrations which can be colored each day after the training

personal appeal of your child at the beginning of each series

Often in rhyme.

built-in test at the end of each series

with a clear answer key for easy correction

With the answer key your child can even correct themselves!

unlimited printing and use


sequence of times tables learned at school is not important.

created manually!

Not made with a computer program which eliminates the problem of certain multiplications being asked more than others. It was carefully monitored that each multiplication is asked equaly in each series and that no two similar multiplications are asked directly after each other.

This way you can be confident that all multiplications are systematically trained!

proven quality and returning customers
My personalized worksheets are currently being used by parents in more then 10 countries worldwide.
Delivered by e-mail in PDF-format. You receive a personalized document of 103 pages.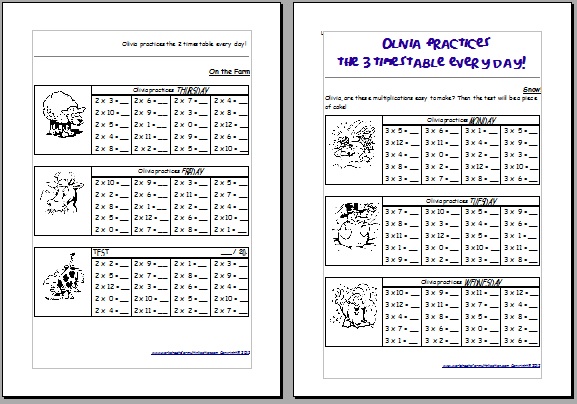 Receive these 50 personalized worksheets and answer keys
(PDF - 103 pages)
for
$12,95
How long will it take before I get my personalized worksheets?
Normally you will receive your personalized worksheets within three working days by mail.